Pea gravel, river rock, stones, gravel, recycled rubber, and recycled glass can all be used with loose material hardscaping. The base foundation is the key to a long-lasting hardscape. Here is some information on the best foundation for hardscapes.
If you start off with a great foundation, your hardscape and landscape will be thankful for years and reward you with years of enjoyment. 80% of the work that goes into hardscape is underground. By skipping this vital step, you may end up with the uneven ground, sinking rocks and steps, and funky landscaping. It's time-consuming but it's worth it!
Take these things into consideration when determining the best foundation for hardscapes:
Depth and underlayment
Soil separation and stability of geosynthetics
Property backfill material
Appropriate amount of backfill
Compaction equipment
Accurate grading
What type of hardscape are you planning?
Patios
A patio is probably the easiest hardscape unless you're getting intricate with design. You can use a multitude of materials such a stamped cement, tiles, or pavers.
Pool Surroundings
Perhaps you'd like a nice, level spot around a pool or hot tub. We make sure the ground is level and protected by using natural stone, concrete pavers, or composite decking. There are plenty of choices when it comes to natural stone as well such as Bluestone flagstone, earth flagstone, slate, travertine, or limestone.  Most offer a great, non-slip surface.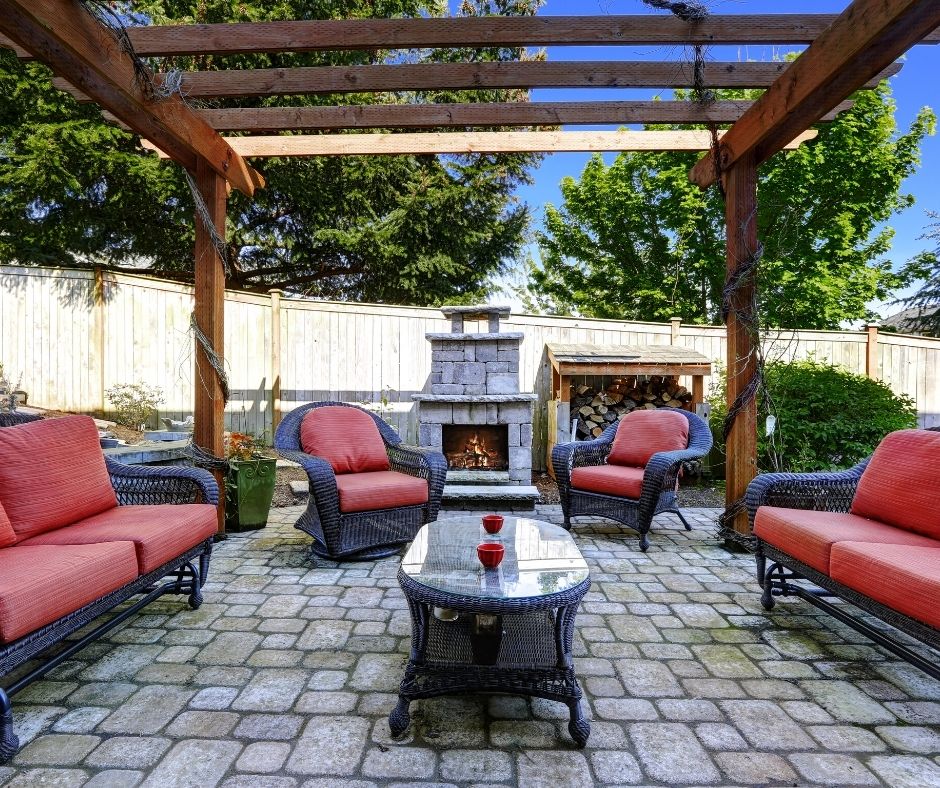 Retaining walls
Most retaining walls are built with stone and brick and make a great hardscape feature adding to your property's curb appeal but they can serve other functions as well. You want to make sure the area is level and that they provide vertical space for any gardens, plans, or additional landscaping.
You'll also want to ensure that you have proper drainage through and around the wall and consider terracing your retaining wall to take advantage of larger hardscapes and more space. No space is unusable.
Related: Everything you need to know about retaining walls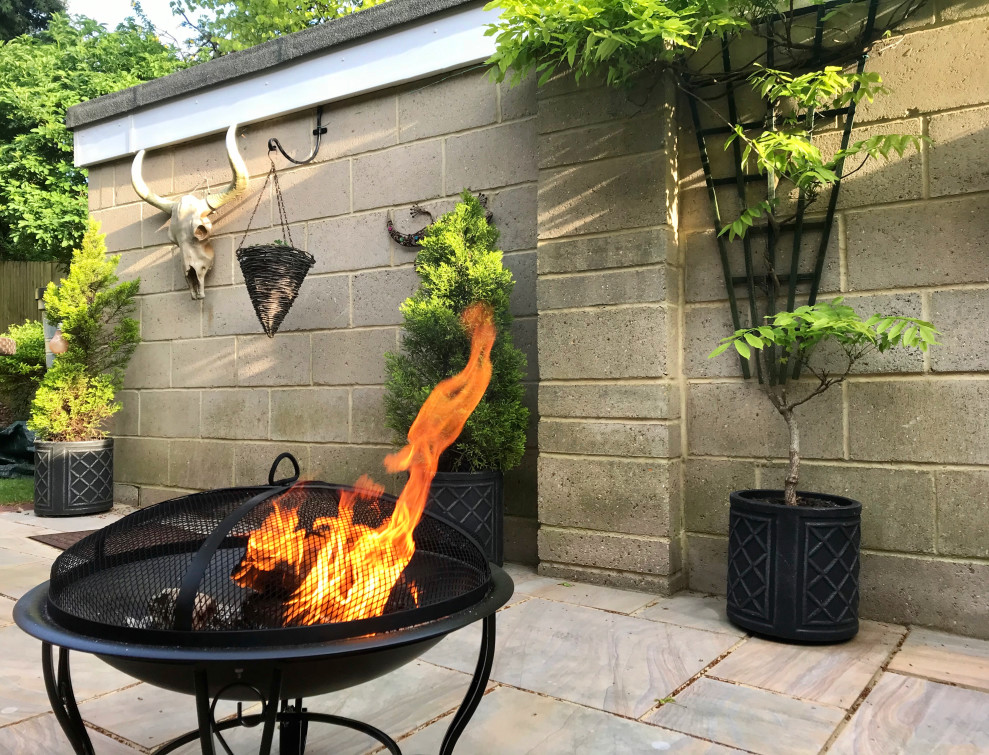 Fire pits
This hardscape feature is a great focal point for your entire backyard. It provides great space for entertaining and eating outside so you want to take care when considering what options you have for a fire pit space such as cement, stone, and brick. These need to be level and safely away from any combustible materials such as the house, chairs, built-in benches were outbuildings.
Equipment Needed
Surprisingly, there is a lot of equipment necessary for putting down hardscape. Here are the most common pieces of equipment but may not be limited to:
Garden rake
Spade shovel
Push broom
Square shovel
Wheelbarrow
Leveling rod
Tape measure
Hand tamper
Plate compactor
Rubber mallet
in any materials needed to cut stone or pavers

Foundation for Hardscapes
Before laying down the part you see, we have to dig down about 6 to 12 inches to provide packing material. We want about a 4-inch concrete setting bed, and your hardscape materials such as stone dust, sand, or gravel. This will set on top of the subgrade or the ground. We'll make sure we are not disrupting any gas lines, electrical cords, water lines, or phone lines.
Once the area eggs excavated we will set up a builders level in the middle finding a benchmarks spot. From there, we will start setting the base with crushed stone and stone dust and dampen each layer with water to keep down the dust. We will compact the layers and once level, begin with the stonework, patio pavers, or concrete, leveling as go.
Having a hardscape patio can add a new texture and dimension to your backyard and the curb appeal of your property. Call us today for a free quote on hardscape's in your backyard, water features, patios, or retaining walls. We love to make your backyard a place that you truly enjoy every moment of the day.
More Great Resources for Homeowners: