Ever heard of forest bathing? In doing some research for the blog this week I came across this fascinating topic and not to risk getting too out there, this is a great way to get close with nature and truly appreciate all God has created for us to enjoy.
Imagine you're seeing the natural world around you for the first time.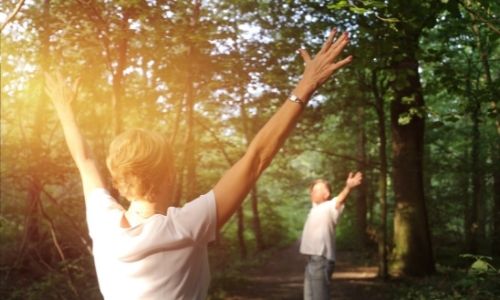 That's the feeling many experience after immersing themselves in the Japanese tradition of "forest bathing." Termed shinrin-yoku in Japanese, forest bathing is the art and science of how trees can promote health and happiness when you consciously connect with the natural environment around you. To forest bathe, immerse yourself in the sights, sounds and smells of your natural surroundings: Listen to trees swaying in the wind. Smell the pine scent the trees are emitting. Notice the textures and colors that you see as your eyes follow the tree from its trunk to its highest branches.
Studies have shown that forest bathing activities such as mindfully ambling through a grove of trees, kneeling beside a stream or walking leisurely through a city park can have powerful positive physiological and psychological effects on a person's body. Blood pressure lessens, stress is released. Moods lift. An overall sense of well-being replaces stress and anxiety.
Taking in all of the senses God has granted us during forest bathing also improves autonomic and immune functions. In addition, the practice reduces the level of negative hormones such as cortisol in the body.
Introduced in Japan in the 1980s, shinrin-yoku has become more and more popular in recent years as information about the practice has become more available over the internet. There are numerous books and websites which offer instruction on shinrin yoku–also known as forest therapy as well as forest bathing. Trained forest bathing guides can provide instruction on how to consciously connect with your surroundings to attain a relaxed and calm state of mind and of course, connect with our Creator Himself.
The Association of Nature and Forest Therapy maintains a listing of guides from around the country who can provide instruction in shinrin-yoku (forest therapy). The association also offers training to become a certified forest therapy trainer. As part of the instruction, trainees take part in a four-day "immersion experience" which can be carried out at sites around the world.
While practitioners recommend forest bathing 20 minutes a day, any time spent mindfully in nature can provide benefits to one's mental and physical health. A major benefit of the practice of forest bathing is that it can be done anywhere in the world in sunshine or cold, rain or snow. But even just stopping, being present and centered concentrating on what really matters and what's around you can really brighten your whole day.
To start your forest bathing journey yourself, look for anywhere there are trees. Then, take a deep breath and start your surroundings. If you'd like to start planning a beautiful place of your own on your own property have this amazing experience, give us a call! We'd love to walk through your property and offer tips on trees, shrubs, plants and colors that work well together giving you the peace of mind and relaxation you want.
Additional Garden and Landscape Additions Tips:
The Difference Between Urban Design and Landscape Architecture
The 7 Principles of Landscape Design
10 Great Ways to Improve Your Backyard

Tools and organizing for your shed
10 Questions to Ask When Hiring a Landscaper
Plants that Thrive in the Bathroom
How to Deal with PNW Blackberries