How often should you mow your lawn?
How often should you schedule lawn care services?
How often do you need yard maintenance?
These are all very common questions we get on a regular basis, especially from new clients looking at having a regular yard, lawn, and landscape maintenance. But it also depends on the time of year and the weather.
Lawns
For basic lawn care services, we like to come about every two weeks. This is a full cleanup that takes anywhere from 1 to 2 hours depending on the property size. Properties in developments of less than half an acre typically take between one and two hours and should be done either weekly or biweekly depending on the amount of landscape on the property. This biweekly service includes mowing the lawn, leaf blowing, weed eating, trimming and clearing away debris. This keeps your yard fresh, clean, and nicely trimmed. However, this is really for late fall and winter months, let's say between November and March.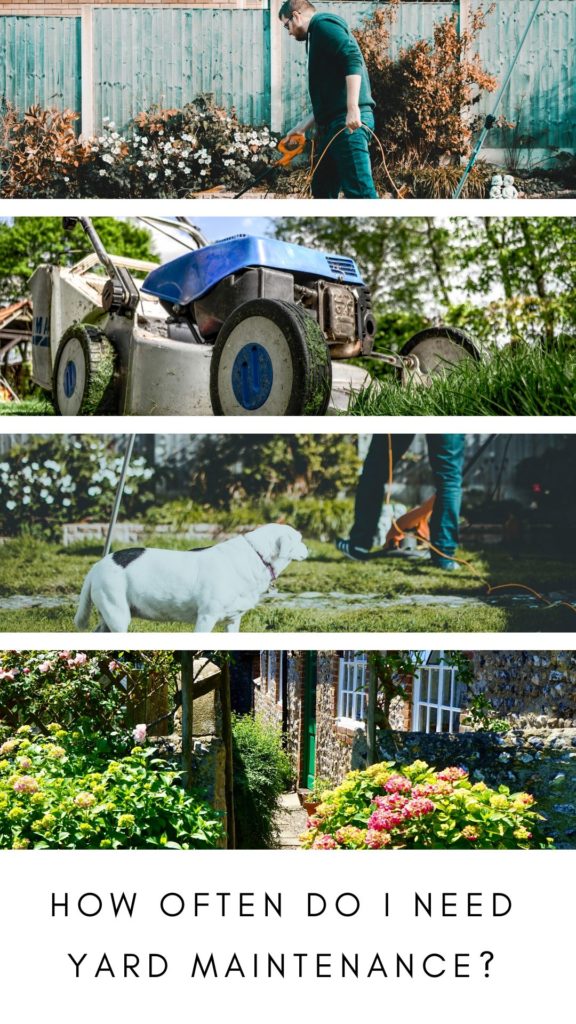 Once the weather starts to get a little nicer we can switch to weekly maintenance. That is, as long as there is no risk of frost, the sun is shining at least once or twice a week, and we're getting a decent rainfall once or twice a week. Of course, that is ideal conditions and we can never predict our weather conditions around here other than rainy, cloudy, and gloomy for at least part of the winter and spring.
If we get a good combination between sun and rain, your grass will grow a lot faster needing at least weekly maintenance if not more depending on the type of fertilizer you've chosen as well. Fertilize lawns that get a good balance of sun and rain should be mowed on a biweekly basis.
Lawns don't like to be mowed too short. It's best to leave them at least 1 to 3 inches so they get full, lush, and bright green. Our lawnmowers are specifically designed to slice the grass rather than chop it off allowing frayed edges to turn yellow and brown.
As with all of our lawn care services, it will depend on the type of lawn you have, how fertilized it is, and the weather and we will adjust accordingly working up a schedule that works for both your lifestyle and budget.
Trees and Shrubs
As we head into spring and summer, more trees, shrubs, and plants will start to sprout, bud, bloom, and grow. If we have done a lot of pruning, those pruned limbs and trees will start to bud, prompting even more additional growth and allowing for more flowers and leaves. This may prompt more pruning as leaves and limbs cross one another and need shaping.
Landscape Maintenance Mulch
Now is also a great time to consider putting mulch down. As we head into summer and hopefully get a few dryer days, that mulch will retain all of the nutrients and moisture in the soil allowing you to water less often and just being better overall for the landscape.
I am a big proponent to Fertil-mulch because of what it's made out of and how it is so healthy for not only the plants but the environment as well. Read more about Fertile-Mulch here and why I love this stuff!
Proactive Lawn Care Services
These are lawn services that will help build the strength of your lawn over time. You might not see a dramatic difference in the first month or two, but over time, you'll have a healthier lawn that is resistant to pests, weeds, and drought. It's a good idea to start this in the early spring or late winter to get a jump on a beautiful summer lawn.
For more information on lawn care services around the Puget Sound including parts of King and Snohomish County, contact me anytime.
More Great Resources for Homeowners:
Call for Landscape Maintenance today!