When to Start Mowing in the Pacific Northwest – This has been a crazy winter. We've had a few cold snaps and one winter storm, but it's been pretty mild overall. The Pacific Northwest tends to be somewhat mild in our winters but we definitely have wet ones.
The wetter it is and then compare that with a windstorm, and it can be a recipe for disaster. The roots after heavy rains can loosen in the ground causing uprooted trees when we get a severe windstorm. Just a week or so ago we had a pretty severe windstorm that knocked out power to a lot of folks around the Puget Sound. But, with all of those power outages also came a massive cleanup.
We have hauled away more debris in the last week and then probably the last month. Trees, limbs, debris, leaves, branches, paired with our standard of maintenance make for a lot of compostable debris.
For most jobs, we can fill one of the compostable green cans each visit or at least twice a month. A 96-gallon container filled twice a month for 12 months equals over 3200 gallons which would equate to nearly 16 yards of debris a year. It might be hard to visualize this, but a cubic yard is a pile 3 feet wide by 3 feet long and 3 feet tall, so about 20 yd.³ is a pile 15 feet long, 12 feet wide, and 3 feet tall, pretty much covering a driveway in front of a garage. That's quite a bit of debris that we can haul away and we've had a lot just in the past week.
When to Start Mowing in the Pacific Northwest
With all of this mild weather, weeds are growing and you get a little bit of sun with a little bit of rain, and boom… There goes your lawn again. While we typically stop mowing the lawn in December as things slow down and the grass becomes dormant, things will start to pick up again back in February. Unless we have another cold snap, were likely to start mowing lawns in February 2021.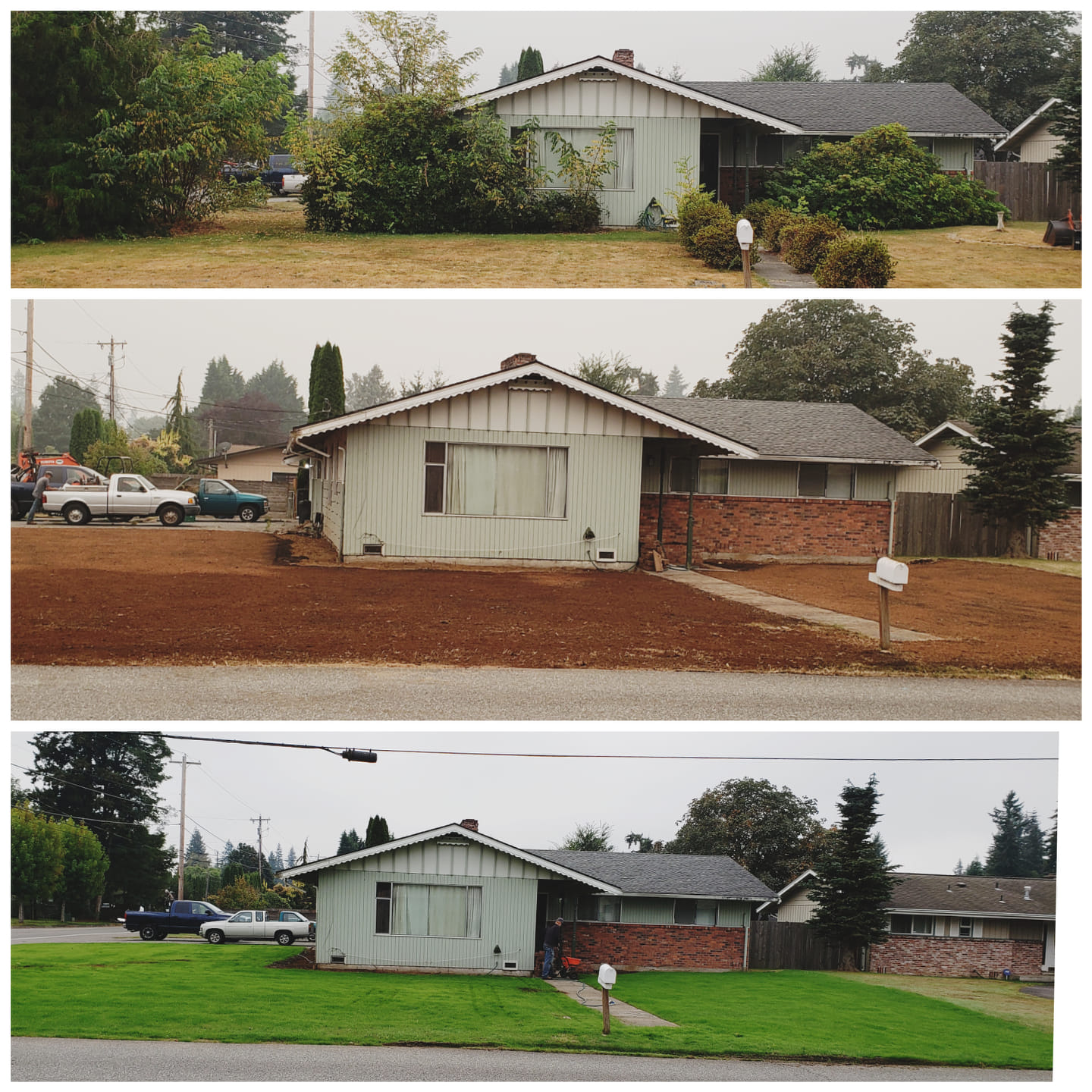 Once the grass is actively growing again, you'll want to start mowing. You don't necessarily have to break out the lawnmower or give your landscaper a call at the first sign of green grass. You don't want to cut the grass when there's an active threat of frost and temperatures that still might drop below freezing.
Right now, we might see that as just over the next week we may get some snow around parts of the Puget Sound. So, I would wait until at least mid-February unless we see more freezing temperatures on the horizon.
More: How to Keep your lawn healthy in the winter
Looking to have professional landscaping or maintenance done in 2021? Feel free to contact us anytime. We have lots of different options and if you're looking to revitalize your yard, do a complete restoration like in the picture that we recently did, or just need some help on a new design, give First Fruits Landscaping a call today.
For more tips on winter landscape and how to maintain your yard, lawn, or garden ready for spring, contact First Fruits Landscaping at any time. Call First Fruits Landscaping for all of your Pacific Northwest landscaping, gardening, and yard maintenance needs. Would love to help you design and prepare your garden or landscape for the entire year.
More Great Resources for Homeowners: