In 2023 there are soon to be many top trends in garden designs and horticulture, ideal for both large and small yards. 
There is nothing better to get you through the anticipated winter than thinking about spring and summer when outdoor spaces begin to bloom again. A trend we will be seeing all designs linked to is the theory that the garden will become a living, natural space that we will be sharing with wildlife. This is a means of fighting the effects of climate change, and a nod to the habitat as part of our approach to outdoor living popularized in this upcoming year. Beautiful eco-friendly designs and stunning plants are central to this year's garden ideas. Continue to read to find out which designs for gardens will be trending in 2023.
Gardens Designed for Climate Change

 
Sustainability is a term that 2023 garden trends will be summing up to one word. A sustainable garden can be many things, for example, a wildlife garden that can create a thriving ecosystem for pollinators. The changing climate is taken into account with this new design of sustainability. Incorporating rain garden elements into the design is a change that needs to be added to gardens. For example, adding a replanted waterlogged area for moisture-loving plants, or including a water reservoir can improve drainage.
Slow Life & Landing 
This trend pairs beautifully with the biggest trend to hit 2022 and will carry into 2023: slow living. This trend is soulful and reminds us to take our time to appreciate the world around us. For this trend, think of subdued tones and colors with light reflections to reflect nature around us. This type of gardening is all about enjoying watching your plants grow and thrive. Herbs are the perfect plants for this trend. As part of the muted theme, a few great herb options include: 
-Stipa tenuissima, Carex "Frosted Curls" 
-Carex "Prairie Fire" 
Living Walls
This upcoming year is finally worth the try to create a living wall. Far more natural than solid fences, living walls are in trend with current backyard trends that allow for the use of available space for additional plants. If you already have a fenced-in area, you can cover it this year with climbing roses, or camouflage it with trees and shrubs. 
Urban Sen Gardens
The zen garden is a Japanese garden style that will be updated this upcoming year to be more modern and angular. Zen gardens are more soft and lush traditionally, with flowing forms. But this upcoming year, expect to see harsh-lined landscaping paired in contrast with beautiful soft plantings. 
Balcony Gardens 
If you have a balcony or terrace in your home, you should opt for creating a balcony garden. While smaller balconies are traditionally reserved for furniture, the introduction of a couple of flower pots can enliven your tiny urban space. For this trend, you don't need a lot of pots or plants, just try to focus on filling the corners with a layered planting pattern with flowers and evergreens. 
Modern Rustic Gardens
While cottage-inspired gardens are typically seen as a countryside activity, we will be seeing the traditional garden style making its way into urban and suburban backyards. This type of garden specializes in growing new and unusual foods and plants in the garden to create a wild, rustic feel. For this garden trend, don't worry about space. You won't need too much for this design to create a romantic outdoor country garden, you will only need to be smart with the plant choices. 
Tropical Gardens 
Tropical planting has been popular for over a year now, but the year 2023 will see more sophisticated planting. For the design, think exotic flowering vines, tropical bamboo, and subtropical evergreens. The 2023 tropical garden trend is less about mimicking a vacation spot, and more about exploring the diverse exotic plants. 
Covered & Open Yards 
This trend is far different than the one we saw in outdoor rooms where patios are turned into living rooms. We expect the trend in 2023 to turn more to the idea of creating a single, uninterrupted space. The goal is to open the room and bring in light and fresh air from outside. 
Repurposed Garden Rooms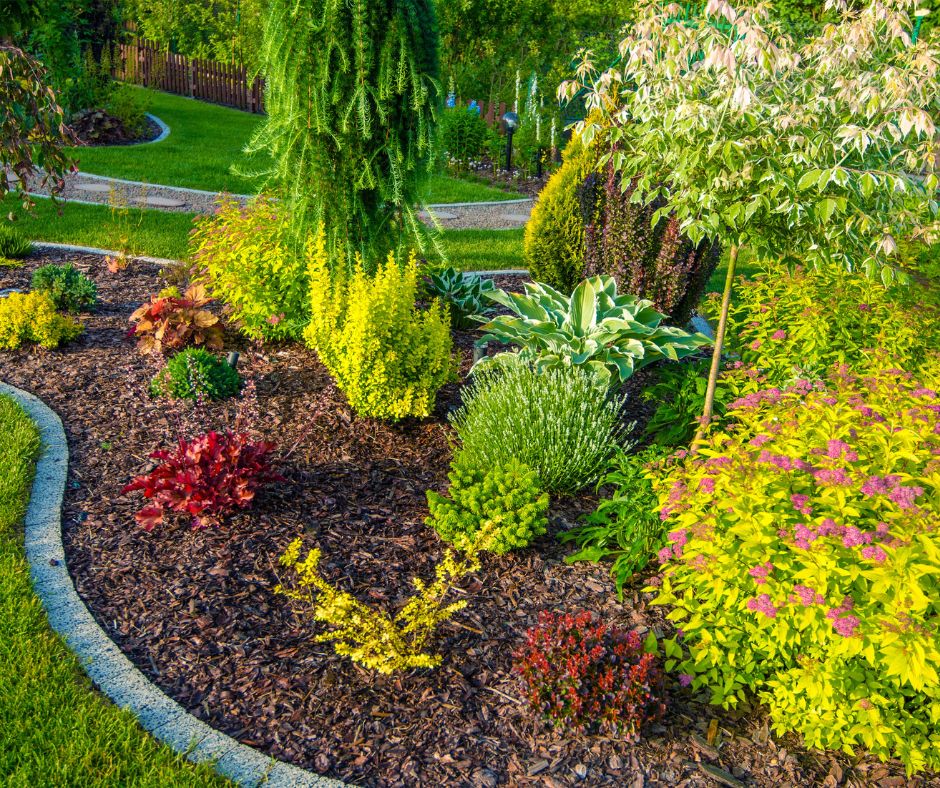 Garden rooms are luxurious, and a wonderful escape for those who work from home. It is an invaluable opportunity to create a separation between home and work, or workout, life. 
White Garden Schemes 
A white garden is a trend that will maintain its presence into 2023. For this garden design, think of delicate all-white seating schemes instead of all-white furniture and painted decks. White color with natural accents will have a less intense look, allowing the space to appear less sterile and more open. 
Tiny Gardens & Water Features 
Innovative garden spaces for small yards are being adopted into mainstream garden designs. Minimalistic structure designs paired with dense planting patterns will dominate the look in 2023. Water features, such as tiny natural ponds paired with water lilies can fit even the smallest backyard. 
---
Contact Firstfruits Landscaping for more information on garden designs upcoming in 2023 or any outdoor home improvement Remember, we do everything from initial design and layout to hardscape, construction, fencing, plantings, and all types of landscape design. From plumbing and electrical to construction and landscape, trust your next outdoor project to Firstfruits Landscaping.
Get a Quote
For more information on Landscaping and Gardening Check Out These Posts: