A newfound charming essence that is brought to landscaping is a trend that is known as cottagecore gardening. This type of garden is one with various plants, fruits, vegetables, and especially where flowers reside. These garden spaces are typically not well manicured but instead rely on both the variety and bounty to lend whimsy to the space. Cottagecore plants are generally smaller clusters of local flora paired with edible crops. 
The most important part in planning a cottagecore garden is the plant selection; no matter where the area is situated, plants that are selected need to accommodate the soil, lighting, and further needs provided by the site. When planting, you will see that groups of flora are grouped closely together so that when they mature, the garden is a sea of movement, color, and texture. Interested in the final design of a storybook cottagecore garden? Continue to read to find 5 easy steps in creating your dream Dinseyesque garden.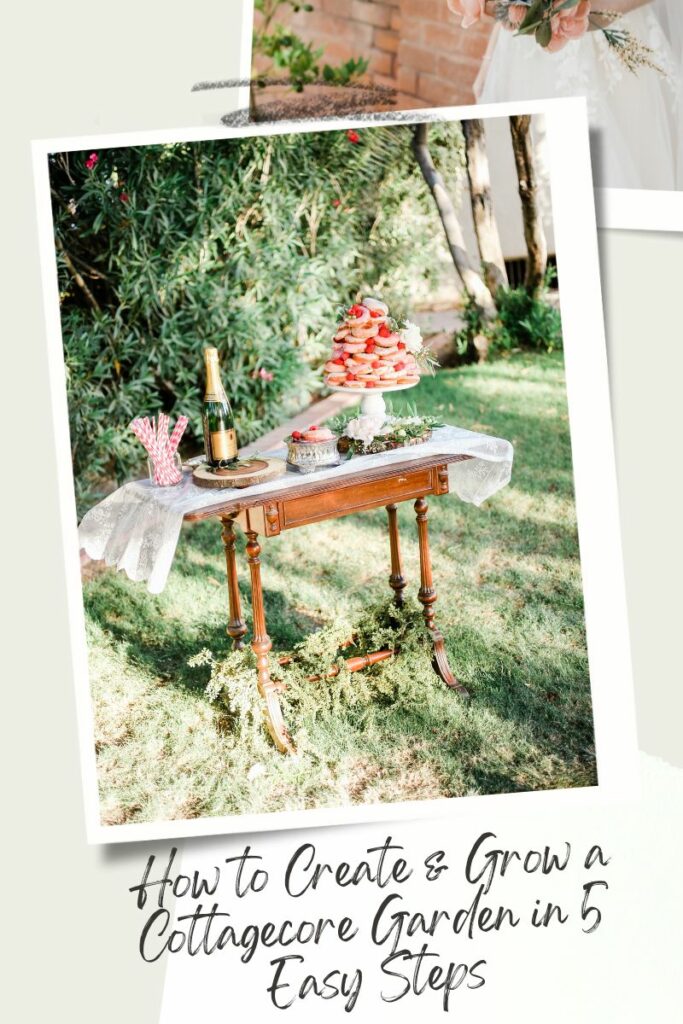 1. Select Pretty Florals to Plant 
When you think of beautiful flowers, what comes to mind? When selecting any type of flower, the heady scent and vibrant hues of the petals on each flower can create a warm, cottage-style welcoming. Some popular choices amongst those that divulge in the cottagecore lifestyle include: 
Climbing Roses 

Cherry Blossoms 

Wisteria and Hollyhocks draped over trellises 
A colorful vintage backdrop to your home is sure to catch the eye and charm you are trying to encapsulate. 
2. Choose Natural Stone for Paving 
Winding pathways that lead to secluded patio areas with weathered characteristics make you feel as if you have stepped into the pages of The Secret Garden penned by Frances Hodgson Burnett. This secret look gives a traditional, rural feel to the garden. Some beautiful choices that many have acquired for their gardens include: 
Ethically Resourced Limestone 

Granite 

Sandstone 
The unique textures and muted colors of these stones that can be used for paving add rustic profiles for an authentic lived-in feel. Hardware stone is available in a wide variety of shades, including natural veining so that no two pavers are the same. 
3. Salvage & Repurpose Old Furniture 
Tap into your DIY-self and get resourceful in transforming something that is past its time and unloved into a statement piece that can be the center stage of your garden. Whether it is recovering and restoring old seat cushion covers pleated in patterns, or breathing life into old dining chairs and a table to accompany, embrace environmental-friendly living. With a lick of outdoor paint, you can bring any piece of furniture to life, metaphorically signifying the cottagecore lifestyle.
The newest trend is Grandma Cottagecore for a Home
4. Plant & Grow an Herb Garden 
Purchase second-hand pots and jars to add to the worn-in aesthetic you are trying to create with your cottagecore display planted directly into the garden. Keep in mind that fresh herbs grow quickly, able to provide an abundance for your homestead. For ideas of what to add to your quaint garden, consider: 
Fresh Lemon Verbena

Lavender

 

Rosemary 

Mint 
All the above can be great additives to wholesome home cooking or complementary side dishes. 
5. Add a Summer House or She-Shed 
To tap into your creative mind with some newfound hobbies, or simply looking for a secluded place to enjoy a good book, a summer house or garden room converted into a livable shed can be the perfect escape. Great for all times of the year with a small portable A/C unit, or indoor heating, this little paradise surrounded by your cottagecore-inspired garden can be a wonderful place to relax. For some ideas: 
Decorate with plush, cozy seating. 

Consider sticking with the theme and adding floral patterned textiles. 

Add vintage trinkets. 

Incorporate warm lighting, and soy-blend candles. 
Contact Firstfruits Landscaping for more information on designing the perfect backyard or any outdoor home improvement Remember, we do everything from initial design and layout to hardscape, construction, fencing, plantings, and all types of landscape design. From plumbing and electrical to construction and landscape, trust your next outdoor project to Firstfruits Landscaping.
Get a Quote
For more information on Landscaping and Gardening Check Out These Posts: