Did you know that First Fruits Landscaping does the landscaping and original set up for new home subdivisions and developments? Landscaping is a must when builders and developers are creating new subdivisions and communities. This is basically the icing on the cake and each home needs its own landscaping, or at least the front yard and the model showroom home. This not only sets the stage for ideal curb appeal but is a welcoming invitation for homeowners to see themselves not just in the home but in the community as well.
How First Fruits Landscaping approaches new developments.
We want to help you imagine the end product and sketch out a landscaping plan that works for your needs, your goals, and your current budget. We want to include any features such as water features, Hardy and native shrubs, trees, and plants, and provide a design it's not necessarily high maintenance but still evokes a sense of completion and ease of care.
We help design a plan discussing your end results, what you'd like potential homebuyers to think about when they visit the house, and the needs of future homeowners going forward.
Will the development need a playground area or tot lot? We can help map out a safe environment that works for kids of all ages whether it's simply laying down a chipped or mulched pad for future playground equipment, organizing and scheduling concrete slabs for basketball courts, or designing a fenced yard perfect for throwing the ball for the dog or just chilling on a park bench.
We give you an idea of what things will look like in six months, as well as, six years. If we plant certain items to close, within a year or two they will be overgrown so we want to make sure that we provide you with a landscape that not only works immediately as soon the homes become available for purchase but also a year or two down the line depending on how many homes will be developed over the months and years. An extensive development may take a couple of years to complete and developers will still want that showcase landscaping is beautiful is the first day it was installed.
We discuss your soil.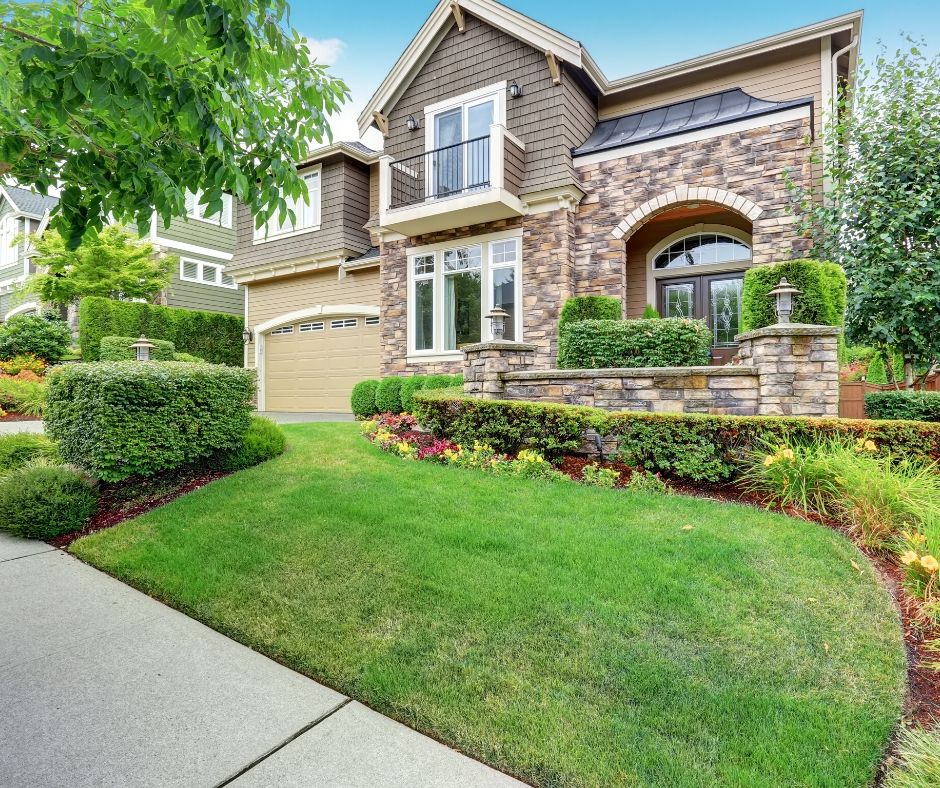 A challenge that many landscapers have when constructing a design for new developments is that most of the topsoil has been removed for building. This leaves a unique dilemma for landscapers and we typically have to bring in a little bit of mulch or dirt to go over the top of either bedrock, clay, or rock, depending on how much of the topsoil was removed for development. This is all design so that plants can sink their roots into the soil and offer low maintenance design for several months or even several years.
When designing a brand-new lot we will also have to deal with compacted soil. Grass needs loose soil to catch root and heavy equipment as well as constant walking over an area can compact the soil. While it's a plus for builders, it's not so great for plants that are trying to grow. We discussed solving this problem with new topsoil.
We work around construction debris.
Whether it's putting the final touches on a brand-new home or working around construction workers, were prepared to deal with construction debris while on-site. This might mean an extra-large rock or two that will need to be removed or construction debris.
Slopes.
Some builders are more diligent about properly grading the lawn but around here, we're forced to deal with what we have, which is not uncommon. Many of these newer home developments have steep grades or slopes in the backyard that need to either have a terraced design or we need to plan hardy trees to hold onto the dirt making the slope more solid.
Master landscape plan and follow-up.
A master landscape plan is a helpful tool that can keep the builder, potential homeowners, and of course, your landscaper focused during the task. We usually install everything together at one time so that we can move on to the next home and the next. You certainly don't want to wait days or weeks for your landscaping project to be completed. Once the home is done, the landscaping needs to be completed soon after so the potential buyers can get a sense of what the home and homesites will look like when completed.
Contact us today for a quote on landscaping for subdivision developers. We can help create a master landscape plan and design that works long after the last construction crew has pulled out of the community.
More Great Resources for Homeowners:
Call for Landscape Maintenance today!