Can you believe it's July already? It seems like we really haven't had too much of the summer but with a few days of sun and then lots of rain means that your yard is probably growing a little out of control. We haven't really hit dry days yet so most people's lawns are still pretty green. Now is the time to be mowing on a weekly basis, trimming, and watering in a balanced fashion. Here are July's lawn and garden maintenance tasks.
Trees and shrubs
Now is the time to prune any dead, damaged, or diseased branches and limbs to prevent them from falling during any summer storms. You'll want to remove the suckers, a branch that jets straight up off of a limb to remove the growth bed and prune any spring flowering shrubs early and leave them alone to Bud for the next year. Deadhead any roses and other perennials so they will continue to bloom throughout the summer.
Continue planting and transplanting any container-grown trees and shrubs and give them extra water and shade protection if we hit some hotter temperatures. You'll want to stop fertilizing any trees and shrubs to allow them to reduce growth during the heat of the summer… If we get any. Add any extra mulch around the roots of major trees and water infrequently but deeply.
Perennials and bulbs.
For fall blooming plants, share them back until about mid-July and give a light haircut to lady perennials to encourage more blooms. If you want to collect seedpods, stop deadheading perennials so that you can keep the seeds when they produce. Support any vines and lady perennials with trellises or steaks and cut flowers for your kitchen table early in the morning where the stems are nice and plump.
Annuals.
Any plants that are in containers need to be watered daily or even twice a day if we hit some hot dry days. At a little bit of fertilizer every couple of weeks and deadhead any old blossoms to encourage more blooms.
Lawns.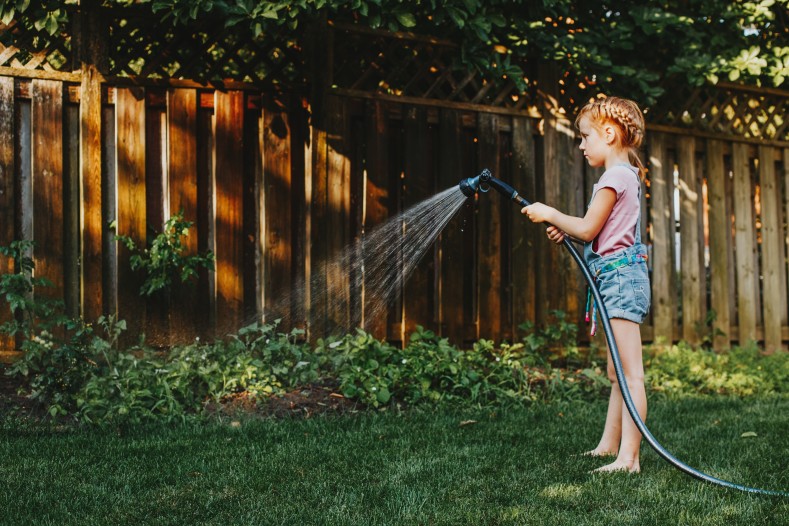 Continue mowing about every week or so keeping your lawn at about 3 inches to 4 inches for a lush, full look. Make sure your lawn gets at least 1 inch of water per week. Mulch any grass clippings to help shade and feed your lawn and edge planting beds for a clean look. You want to stop fertilizing lawns about mid-summer to allow them to rejuvenate and create their own strength.
Check on your lawnmower. Now is a great time to make sure that your lawnmower blade is sharp and cleaned so that you don't tear the grass but cut it cleanly. Grass that has browning shredded tips means that your lawnmower blade needs to be sharpened.
Vegetable gardens.
If you're planning on gardening into winter, order those bulbs and seeds now. Add compost to vegetable gardens and harvest any veggies as they come up. You want to continue watering and weeding and watch for insects. Crushed eggshells around plants like peppers can prevent slugs and snails from getting to your tender leaves. Harvest any herbs and for the maximum flavor of herbs, cut them just as the flower bed appears. You want to cut back annual herbs such as basil to encourage a second harvest.
Harvest any berries before birds and squirrels get at them and remove or discard any fallen fruits and vegetables to discourage rats and other pests. Now is the time to give your tomatoes a little extra water and mistake them if you haven't already. Related: Tips on Rodent Removal
If you need help with any of July's lawn maintenance tasks give me a call. Would love to come out and see what we have to work with and offer a maintenance schedule or even just a one time job to spruce up your curb appeal, backyard, and lawn.
More Great Resources for Homeowners: