Well, it's June and you are probably doing a lot more gardening and landscaping outside then you did just a couple of months ago. Most of the area is now lush and green, especially with as much sun and rain we've received over the last month. June marks the official start of summer when the northern hemisphere experiences the longest day of the year. This means it's great for working out in the garden and it's not too hot yet, even though we don't get unbearable temperatures typically. If you're doing more outside here are some of June's yard and garden maintenance tasks.
Trees.
Continue to prune your trees and fruit trees to give you the best harvest possible. If you have too many branches and twigs going everywhere, the nutrients and water will go more into those that into the fruit.
Add extra mulch to shallow-rooted trees to help them hold moisture.
Continue to plant container-grown trees and keep them well watered.
Shrubs and bushes.
Right now everything is coming out fast and even if you just pruned or trimmed, you'll have to do it again. You want to deadhead spring-blooming shrubs to focus the plant's energy toward the strong growth and next year's blooms. Continue to prune it blooming shrubs as soon as they finish blooming.
Watch for black spots and powdery mildew and apply a fungicide if possible. Check out more about organic gardening here.
Add extra mulch to shallow-rooted shrubs like azaleas and rhododendrons to help them hold moisture and remove aphids off of roses and bushes with the hose.
Reduce fertilizing as the temperature heats up.
Perennials.
Perennials are great because you plant them once and they just keep coming back year after year. Perennials and summer bulbs can be planted now. Spring bulbs should only be cut back when the foliage dies naturally. Early bulbs like daffodils and tulips will die out sooner but irises can stay green all summer long so simply remove the flower stocks when they're done.
You can plant dahlias, Gladiolus, and tuberous begonias now as they will give you a longer season of blooms. Make sure tp stake or support any weak or leggy plants and start training climbing plants on trellises before they become unmanageable.
You might get a second flowering if you cut back spring-blooming perennials after they bloom. You can start growing perennials from seed now for next summer.
Annuals and container plants.
Now is a great time to plant summer annuals such as begonias, zinnias, pansies, and petunias. Continue to deadhead any flowers to encourage more blooms and don't forget to water your container plants every day or two as they can dry out the fastest, especially if it doesn't rain or they are under a shelter where they don't get any rain. Window boxes, hanging plants and containers under porches may require daily watering.
Fertilize annuals and containers every couple of weeks with a bloom boosting organic fertilizer.
Pinch off any fated leaves and apply a balanced organic fertilizer to keep the colors bright.
Grass and Lawns.
It's a good idea to raise the blade on your lawn more throughout the summer. Cool-season grasses should be mowed at 3 inches to 4 inches and warm season can be mowed at 2 inches to 3 inches.
Mo regularly if you mulch the clippings and control the weeds with a gentle herbicide, pulling them, or digging them up. Make sure to remove any weeds before they bloom so that you don't have to worry about those seeds creating more weeds.
Now might be a good time to aerate and dethatch the lawn. And apply any moss killer before the temperatures stay above 65°.
Water your lawn so that it gets about 1 inch of water per week to encourage deeper roots.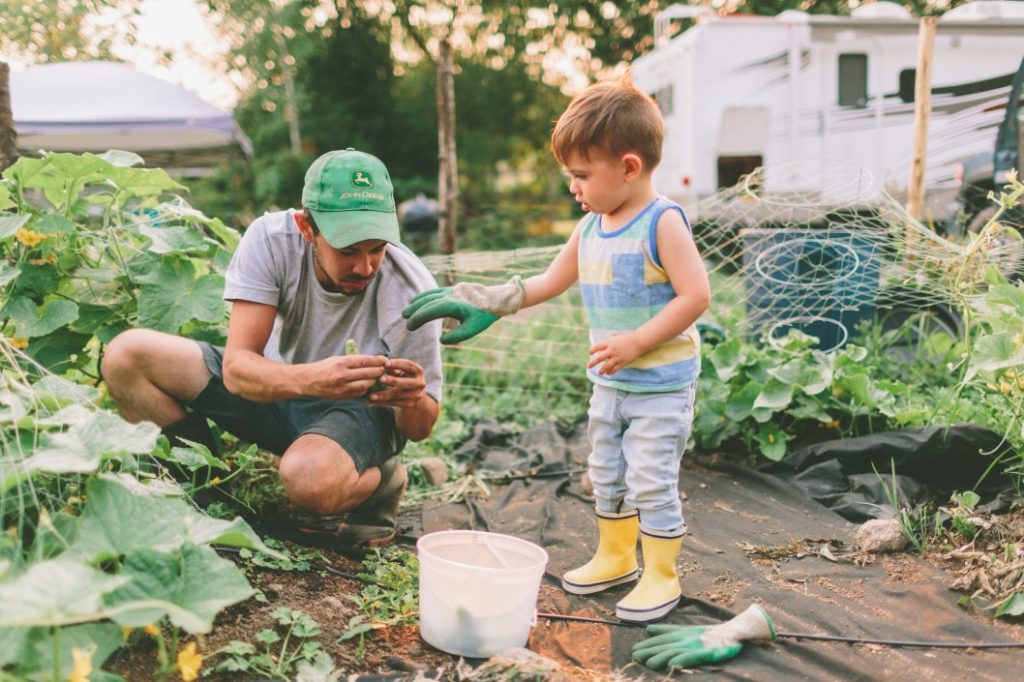 Fruits and Vegetables.
Now is the time to plant warm-season veggies such as tomatoes, cucumbers, squash, and peppers. You want to mulch crawling veggies such as squash to keep them clean and away from Saudi soil. Sin any vegetable seedlings and keep the garden watered evenly, preferably in the morning. Try to avoid watering at night which can encourage mold and mildew.
Now is a good time to plant summer herbs such as cilantro and basil. Pinch off the flowerbeds to encourage more growth. Harvest any cool-season vegetables such as spinach, broccoli, and cabbage.
There is a lot to do because this is prime gardening season and of course, if you don't want to do any of it, that's what we are here for. Call us today for a quote on any lawn maintenance and landscaping needs.
More Great Resources for Homeowners: